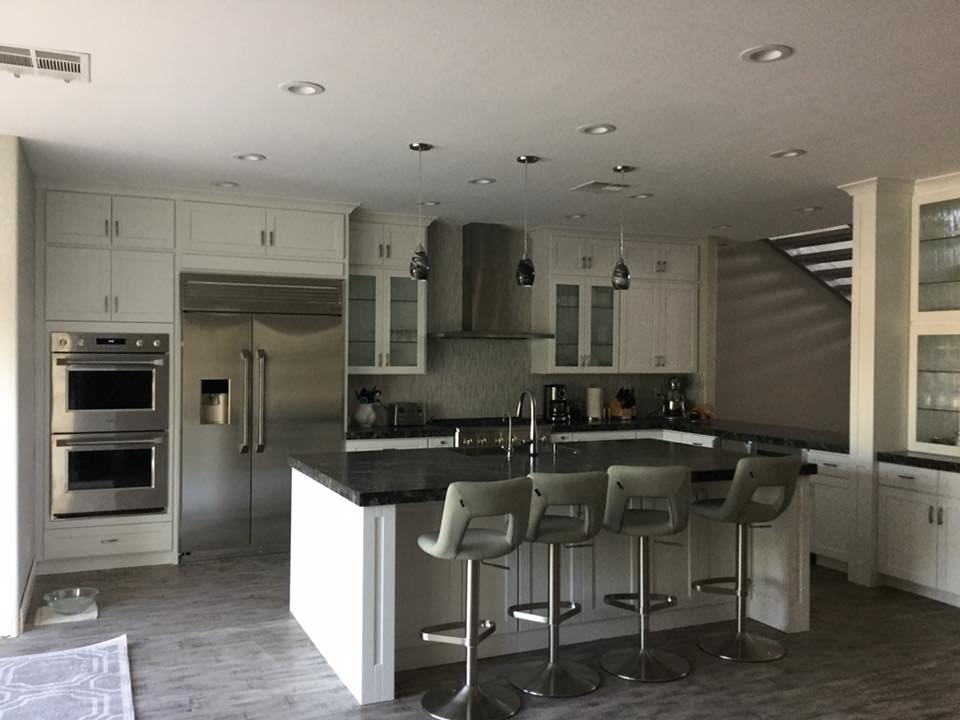 Tajo One is based out of Northwest Las Vegas and serves the entire Clark County area. We've been in business here since 2004 and are trusted members of the NKBA and the BBB with an A+ rating. We are your licensed, bonded remodel expert. We have consistently ranked in the top ten kitchen and bath remodelers in Las Vegas.
Las Vegas Kitchen Design & Remodeling
Our personalized kitchen remodeling services include design of your new kitchen. We create gathering spaces for family and friends. We handle makeovers of all sizes, replacements of cabinets or countertops, refinishing and painting. If you need to move walls or appliances to make the dream kitchen a reality we have a team of architects and engineers in our stable.
Custom Cabinetry
Our selection of cabinetry is the best in the Valley. We have every style imaginable from Traditional to Contemporary, all built to the highest quality cabinet standards with dove tail joints, soft close doors and drawers. In addition, our cabinet shop can custom build cabinets, vanities, shelving to any specification you desire, and we'll top it off with the best in trim, crown molding, light rails and design elements.
Custom Countertops
Countertops are a major component of kitchen makeovers and we offer fabrication and installation of granite, quartz, marble, quartzite and solid surface countertops with backsplashes available to suit the most discriminating buyer.
Lighting & Cabinet Accents
Your lighting will be an important detail of the new kitchen and we'll work with you on style, placement and the types of new lighting available. From direct lighting to task lighting to the newest designs in under the cabinet accents to make the kitchen over with a whole new look and appeal.
Hardwoods, Tile, Stone & Laminate Flooring
Flooring is also a major element in your new kitchen and we are experts in demolition and installation of new flooring in tile, porcelain, natural stone, hardwood or laminate flooring. Again our flooring designs are unparalleled in the level of service and expertise we are able to provide.
Luxury Appliances
We also provide installation of your new appliances and our team will work with on the placement of all the appliances. Our licensed professionals can relocate electrical, gas lines, relocate sinks and maximize the functionality of your new designer kitchen.